---
---
Victoria Park today
Victoria Park, situated in Malvern Link is the largest public park in Malvern with the widest variety of facilities, most of them free to use. Facilities include a popular play area, a skateboard park, two brand new basketball courts with world class surfacing, a football pitch, netball and tennis courts, a multi-use games area and a trim trail.
---
The site is a very popular, destination park with users travelling from all over Malvern and as far as Worcester and Hereford to use the facilities. Malvern Town Council has agreed its commitment to continual investment to improve and upgrade facilities at this important site. The new basketball courts were completed in 2021 and further plans include a new and versatile community hub building, an upgraded skateboard park facility and new play equipment.
---
The next step in these plans is replacement of the old pavilion, which has reached the end of its useful life and now stands empty. A new, vibrant community hub is seen as essential to allow Victoria Park and the Town Council to meet the expectations of park users and residents into the future.
This project is scheduled for 2022 and the Town Council is now keen to get your input.
---
What is the Victoria Park Community Hub Project?
Malvern Town Council is preparing to build a new two-storey building at Victoria Park. This will be an eco-friendly, multi-use and welcoming hub for the community and will include modern, well situated public toilets, a versatile community room / meeting space, a café and the Town Council offices.
---
Why is the current pavilion being replaced?
The current pavilion has sadly become obsolete. Its poor build quality has resulted in ever increasing maintenance costs, its layout is no longer suited to users' needs and its poor positioning at a low level within the park has led to vandalism and anti-social behaviour due to the lack of visibility around the building. The public toilets in particular are very poorly situated, and their constant misuse and vandalism has resulted in substandard conditions and frequent closures.
---
What benefits will a new community hub bring?
Malvern Town Council has a bold and ambitious vision for a replacement building at Victoria Park. The aim is to create a new, modern, and eco-friendly Community Hub which will benefit local residents and other users of the park.
A new community space / meeting room will be able to be used for a wide variety of activities and will be fitted with modern technical equipment.
A ground floor café with inside seating and an outside deck will provide refreshments to users of the park as well as being an excellent additional hospitality facility within Malvern Link.
Modern, well-situated public toilets will have disabled access and baby changing facilities.
Secure storage lockers will be provided for park users.
The relocation of Town Council staff will provide an onsite presence to assist park users and provide a reception / information hub for local residents, as well as making it easier to access all Town Council services.
This purpose built, sustainable building will have flexibility of use to accommodate all needs. Designed to be low-energy and eco-friendly, the building will also allow the Council to fulfil its aim of working towards carbon neutrality.
---
Why are the Town Council offices being moved?
The Town Council Offices were moved into the building on Belle Vue Terrace in 2001, but the original plans for an open and accessible reception facility did not materialise and therefore Town Council staff are located in a first-floor office with no designated reception area, making it difficult for members of the public to locate and access. There is a lack of parking nearby and the current meeting room is fairly small in size and not well used.
As the concept and design for a building at Victoria Park was progressed, it became clear that a new community hub building would provide important facilities and services for both users of the park and the local community. Moving the Town Council into this new purpose-built venue will provide an onsite presence at the park, allowing Town Council staff to better serve the local community whilst maximising the value from this important asset.
The offices will be easy to locate, easy to access with parking available on site and there will be a designated reception / information area for use as a contact point with staff. More events will be able to be run from the park, community groups can be encouraged to make use of the facilities and sports equipment and pitches can be better managed.
The Belle Vue office building needs major refurbishment, including works to make it more energy efficient and deliver on the Council's mandate to reduce its carbon footprint. The sale of the current offices will be a major funding element of the project.
---
---
Will the building be accessible for all?
As a newly built non-domestic building the community hub will need to be accessible and usable to all individuals, regardless of their age, gender or disability. The design of the new building will be carefully considered and developed so that it is inclusive – so that everyone can use it safely and easily – and welcoming with no disabling barriers that might exclude some people. This will be a huge improvement on the existing pavilion, where accessibility is limited.
What is the budget for the project?
The budget for this project is £1.5 million. This will be funded through the sale of the building on Belle Vue Terrace and by using current Town Council reserves. There will be a shortfall in financing which will amount to a maximum of £310,000 and to raise this funding, the Council will need to apply for a public works loan board (PWLB) loan of up to £310,000.
---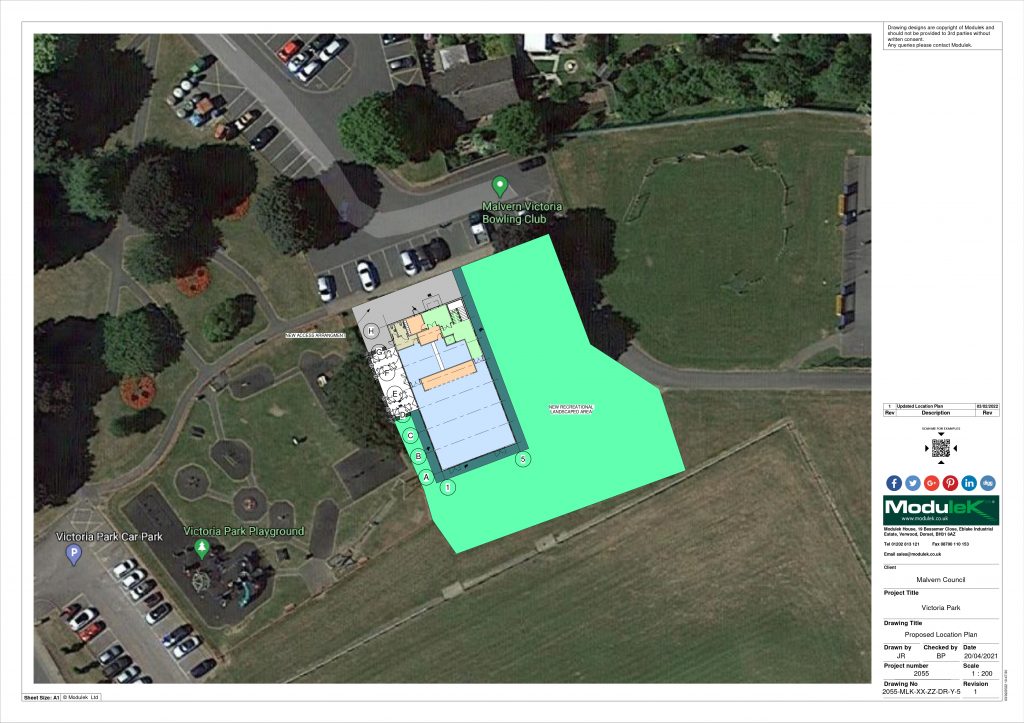 Where will the new building be situated?
The new Community Hub will be located on the footprint of the existing building but the ground floor levels will be lifted by approximately 1.7m to allow better visibility within the park and greater connectivity between the building and the play area to the west, and green open space to the south. The new building will extend into the area of the current skatepark which will be relocated and upgraded in a separate project.
Will my council tax increase and if so, by how much?
A PWLB loan would be taken over a 25-year period and result in annual repayments of £16,154.96 and require a maximum increase of 2.3%[1] on the Town Council precept to cover this cost. For a Band D council tax payer this will equate to an additional £1.52 per year or 2.9 pence per week. Any increase in Council Tax would not be implemented before 2023/24.
[1] This is based on the current prevailing interest rate set by the PWLB which may change.
---
Is the Town Council spending an extra £900,000 of taxpayers' money to move the Town Council offices?
No. The plan to move Town Council staff to Victoria Park is linked to the sale of the Town Council building on Belle Vue Terrace and the proceeds from this sale will be used to finance the new building.
If the staff are not moved and the offices retained, there would still be a need for a new building at Victoria Park to replace the current dilapidated pavilion. With no income from the sale of the building on Belle Vue Terrace, the amount to be used from general reserves would remain the same, the amount needing to be borrowed would remain the same and therefore there would be no change in the loan repayments and council tax increase stated above.
---
How can I submit my views?
Malvern Town Council is carrying out a public consultation to get the views of local residents. Paper copies of the survey will be delivered to all households with the All About magazine and can be returned to Malvern Town Council offices by post or by hand, or drop your survey off at the library or TIC. Alternatively, complete the survey here.
---
Whose views will be taken into account in the vote?
Malvern Town Council is interested in the views from the local community and from neighbouring areas. However, as the responses to questions within the public vote section are required to support any loan application, only answers submitted by Malvern Town residents who are over the age of 18 and registered on the electoral roll can be considered.
---
Main Aims
Versatile and well used Community Space / Meeting room
Public toilets to be modern, well situated and serve the needs of park users
Centre for community activities and Town Council services
High quality, low energy building to allow the Town Council to reduce carbon emissions.
Still have questions? You can contact the Town Clerk on townclerk@malvern-tc.org.uk
Or visit one of our consultation events at the following locations: